HostArmada review: Get Reliable, Secure, and Fast Web Hosting
Having a website has become one of the essentials for modern businesses. It is an online beacon that guides potential customers towards your business, increasing your reach, profits and helping you advertise on your own platform.
However, before you start using and implementing your site, you must first take care of one fundamental thing – website hosting.
What Exactly Is Website Hosting?
Well, in order to ensure your website has a global reach, is always available, and that its data is protected, you need to store all of the files and folders that ensure your website functions properly in a secure place.
Instead of creating and running a server from your home, most businesses and users choose to entrust their websites to third parties – web host providers. Aside from security, employing a web hosting provider allows you to store content offline. This both increases security and reduces the costs of operating a website.
Since web hosting is the foundation of your website, it is important to pick a good provider. As with all technical and networking solutions, there is an abundance of web hosts to choose from.
Today, we will talk about one of the best ones out there – HostArmada.
What is HostArmada?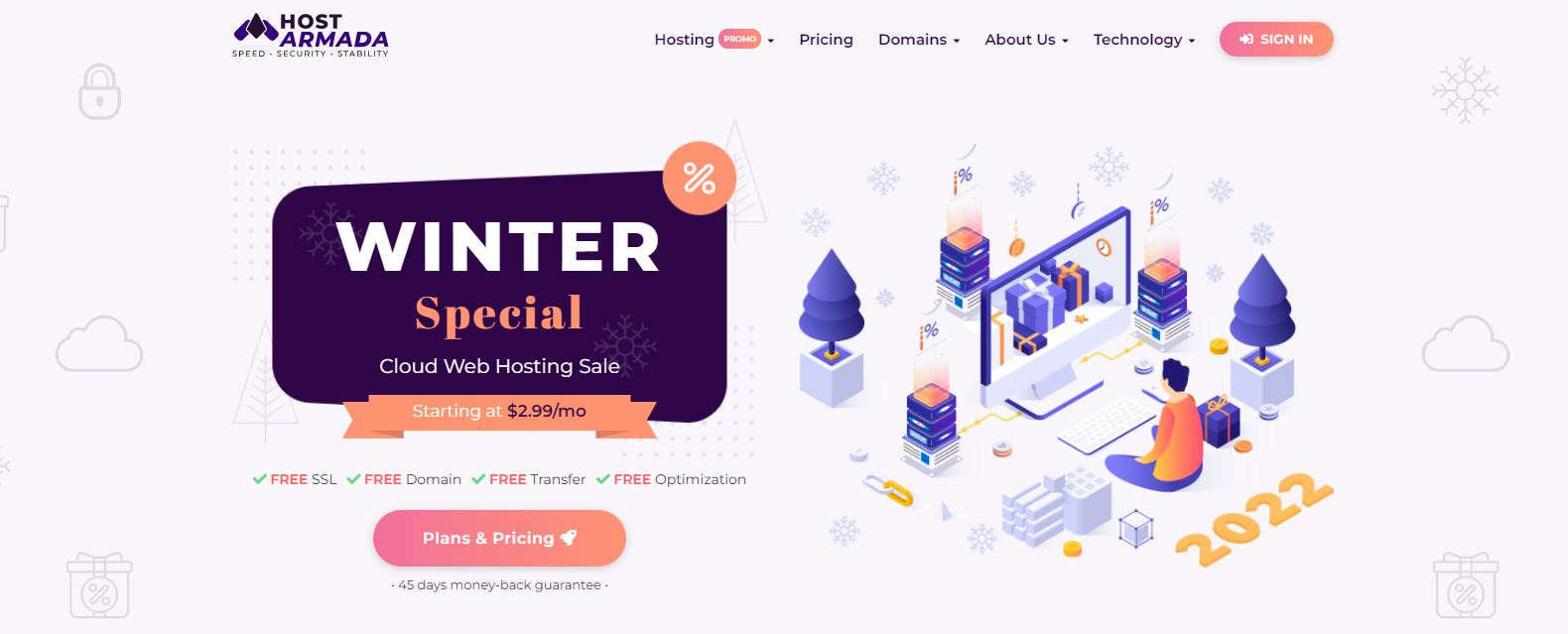 HostArmada is a new web hosting company that is privately owned and self-funded. Even though it is a new player in the host provider business, it has already spread over four continents.
HostArmada has a simple goal. They aim to provide their users with quick, reliable, and secure web hosting services. One of the ways they achieve this is by offering a variety of hosting options to best fit their client's needs.
When it comes to availability, HostArmada has nine data centers to choose from 4 in North America, 2 in Europe, 2 in Asia, and another one in Australia.
HostArmada provides 7 different hosting options with different goals, target audience, capabilities, and price points. The following will be more about those hosting options.
1. Cloud WordPress Hosting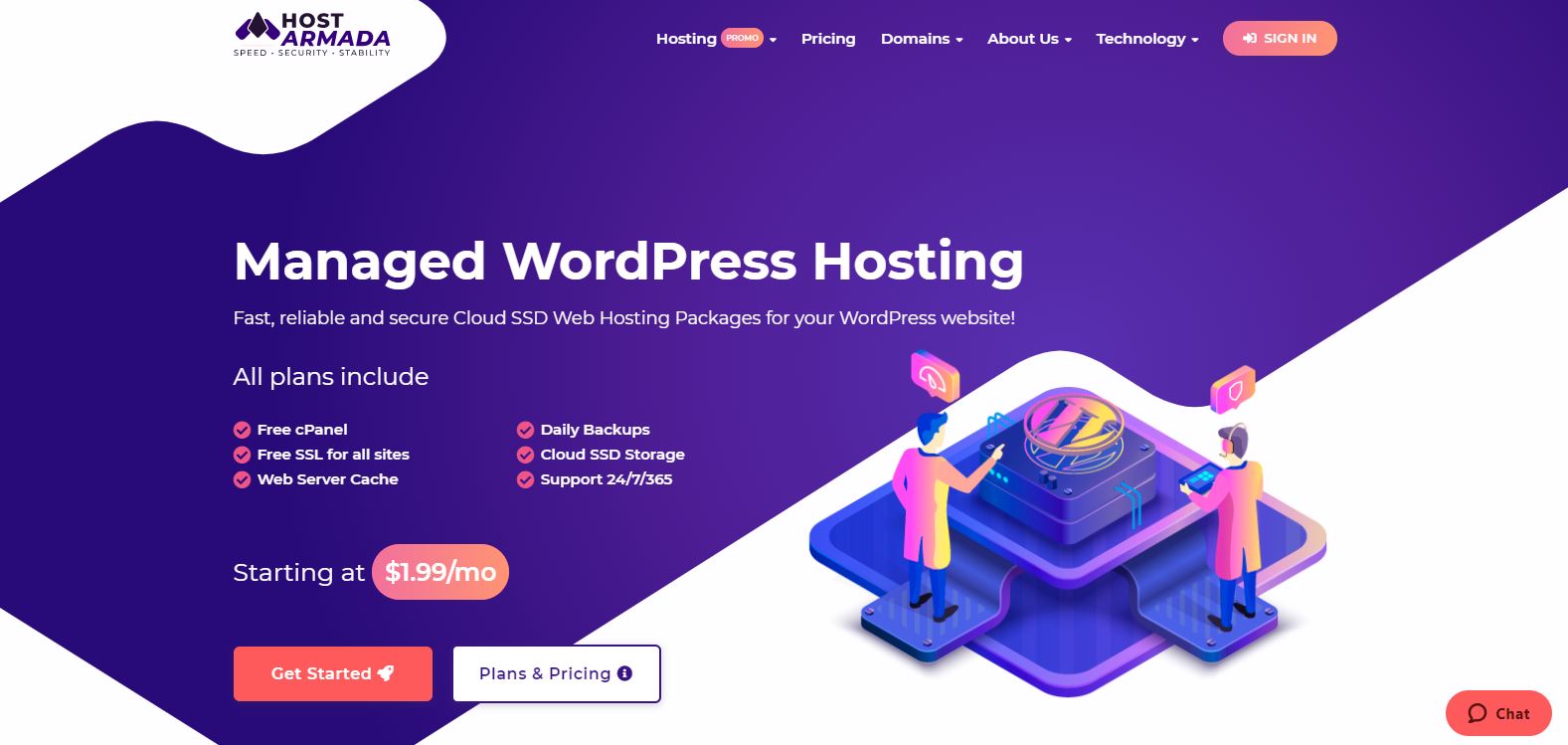 This is a Cloud Web Hosting SSD Package for your WordPress website. The package boasts 24×7 technical support and 99.9% uptime, thanks to its' Cloud SSD technology and battery-powered RAID controllers. Some of the other features include a 1-click WordPress installer.
This allows users to deploy WordPress sites quickly, and configure each installation separately.
To ensure security and reliability, HostArmada backs up your website every day. If something goes wrong, you can easily recover your website from the saved backup with a single click.
HostArmada also maintains a lower number of clients per server. This allows them to have great website performance and low site load times.
There are three pricing options for this hosting solution: Start Dock at $2.99, Web Warp at $4.49, and Speed Reaper at $5,39 per month. They vary in the number of websites, allocated SSD space, CPU cores, and RAM.
2. Cloud Shared Hosting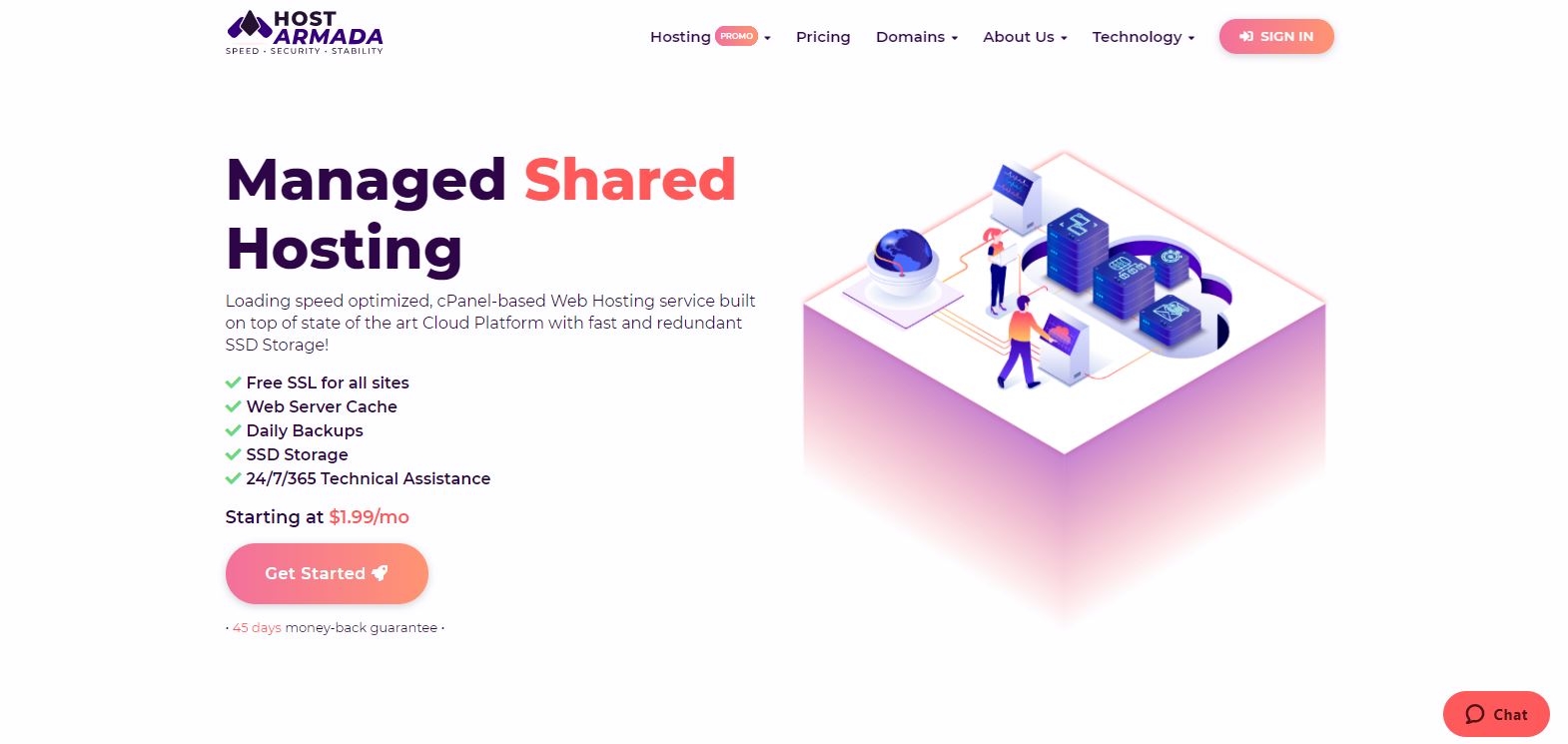 Cloud Shared Hosting option includes SSD Cloud Storage realized using the best SSD drives for servers. Besides that, they also utilize secure, battery-powered RAID controllers for added data integrity and security. RAID controllers ensure that the data can be restored in the event that an SSD gets corrupted, damaged, or destroyed.
You can rest easy knowing such technology protects your data and your website. To defend against off-site dangers, like viruses and malware Cloud Shared Hosting plans also include various security measures that utilize the latest AI advancements to keep your files safe.
Every Opensource application hosted by HostArmada comes with free features such as application installation, visual theme installation, module installation, visual theme updates, and application updates.
3. Cloud Reseller Hosting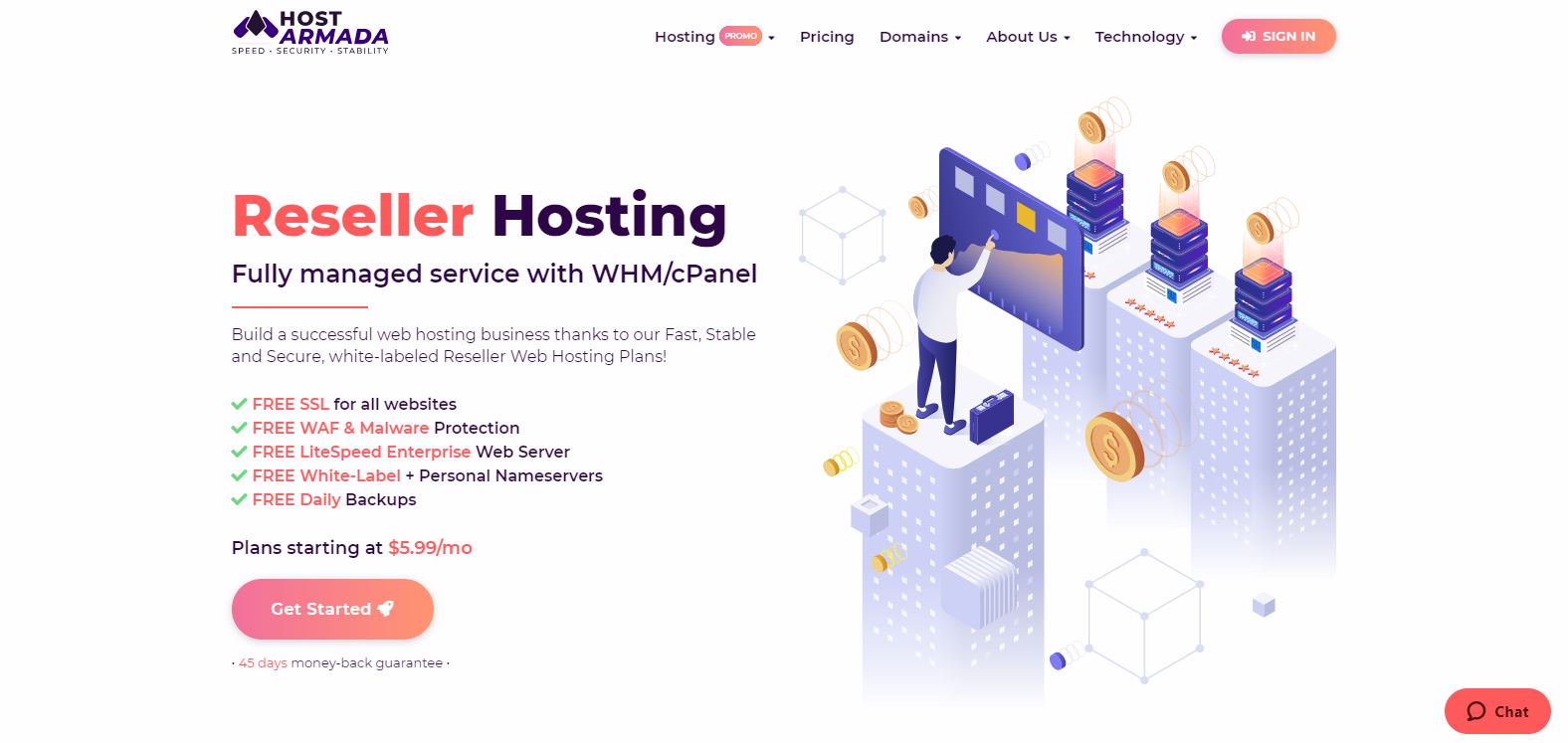 If you want to start your own hosting service, but lack the necessary funds and technical infrastructure, consider using a Reseller Hosting option from HostArmada.
It allows you to create fast, stable, and secure hosting options to resell. This service has a WHM/cPanel and is fully managed. Similar to the plans prior to this one, Cloud Reseller Hosting options utilize cloud services powered by SSD storage drives with high I/O capacity.
The usage of SSDs also ensures a high uptime of 99,9%. Besides that, HostArmada ensures that there will ever be only a few customers on each server. That way, the servers will not be overloaded, and your hosting customers will enjoy quick response times and quality service.
Static and dynamic content caching, a LiteSpeed Web server and the LS Cache plugin are all included in HostArmada Reseller Plans, making them ideal for WordPress hosting. You'll get DDoS protection and an IP-based firewall, among other things, ensuring a high standard of security.
You can control and manage your clients easily, using WHM Access and cPanel. Since people at HostArmada know that users like to use Open-source applications on their servers, a convenient one-click application installer is included in this option as well.
There are four plans to choose from, ranging from $8,99 per month to $20,99 per month.
4. Cloud SSD VPS Hosting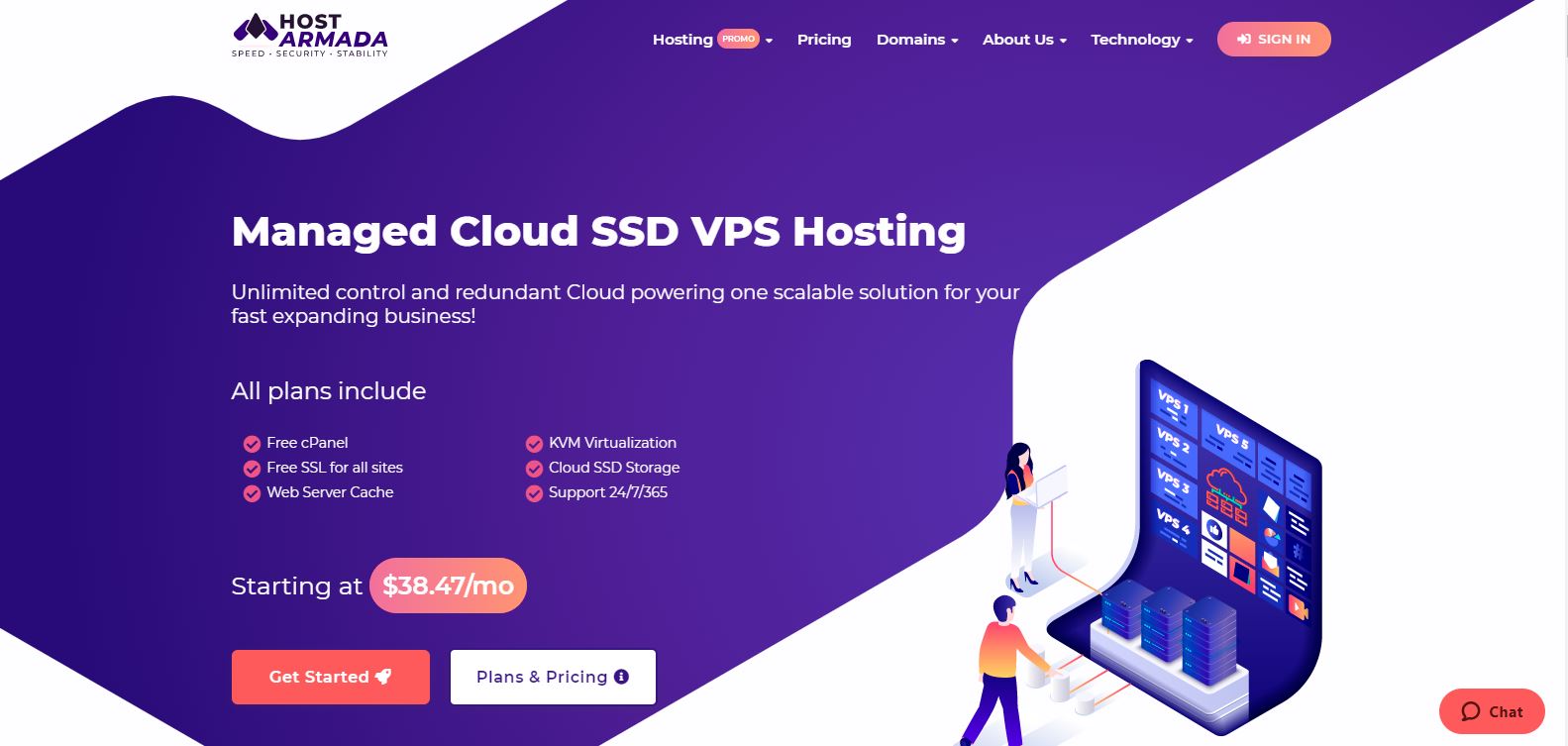 This Cloud SSD VPS hosting package is designed for clients with particular needs. Suppose you need e-commerce, multiple websites, a MySQL database server, resource-intensive websites/custom apps, and a dedicated email service, among other things. In that case, this option is the best fit for you.
The bundle is perfectly scalable and was designed with growing businesses and their needs in mind. Main HostArmada features, such as a 1-click Application Installer, secure and consistent backup feature, and Nginx Web server Cache are included in this bundle.
You can start using this bundle for the starting price of $41,21 per month or choose from one of the more advanced options that go up to $101,21 per month.
5. Dedicated CPU Server Hosting
These are dedicated Cloud SSD solutions that are powered by redundancy and website performance. They have on-demand access to the root user of the operating system, giving you complete control. Your websites will load faster thanks to SSD technology, and human-powered technical assistance is available 24 hours a day, seven days a week.
These Cloud SSD VPS plans start at $111,75 a month and go up to $246,75 per month. If you require more CPU, RAM or SSD storage than even the most advanced package contains, you can get a quote for your desired specifications.
6. Opensource Hosting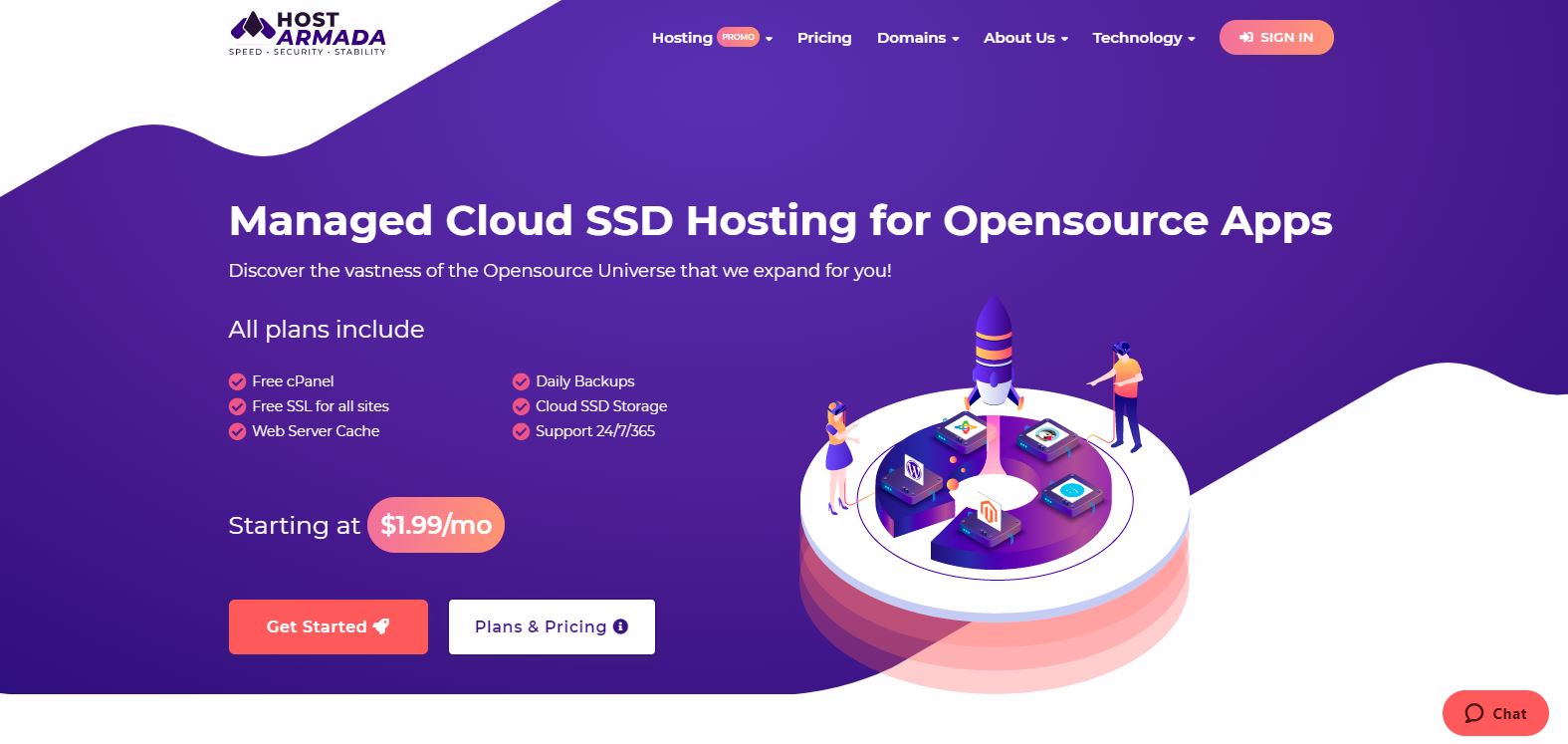 This Cloud SSD Open Source Shared Hosting comes with a 1-click application installer, managed-to-host web service, consistent backups, and LiteSpeed cache.
Also, there are native SSD Drives, cPanel with easy pilot service, technical support, and website security that is AI-based. This package has three plans, and a starting price is $2,99/month.
7. Development Hosting
This is a website hosting solution that has been designed specifically for website construction in mind. It performs consistently and is well-equipped with the tools needed for that job.
For experienced coders, SSH access is available. This package includes PHP Selectors, PHP Vars Editor, and Additional Tools that are presented on the HostArmada website.
The plans start at $2.99/month and feature free cPanel, web server cache, daily backups, Cloud SSD storage, and SSL for all sites. Regarding the SSL, it is one more significant thing for your website as well. Another helpful tool that saves time is a plugin that ensures the proper SSL configuration – WP Force SSL.
Domains at HostArmada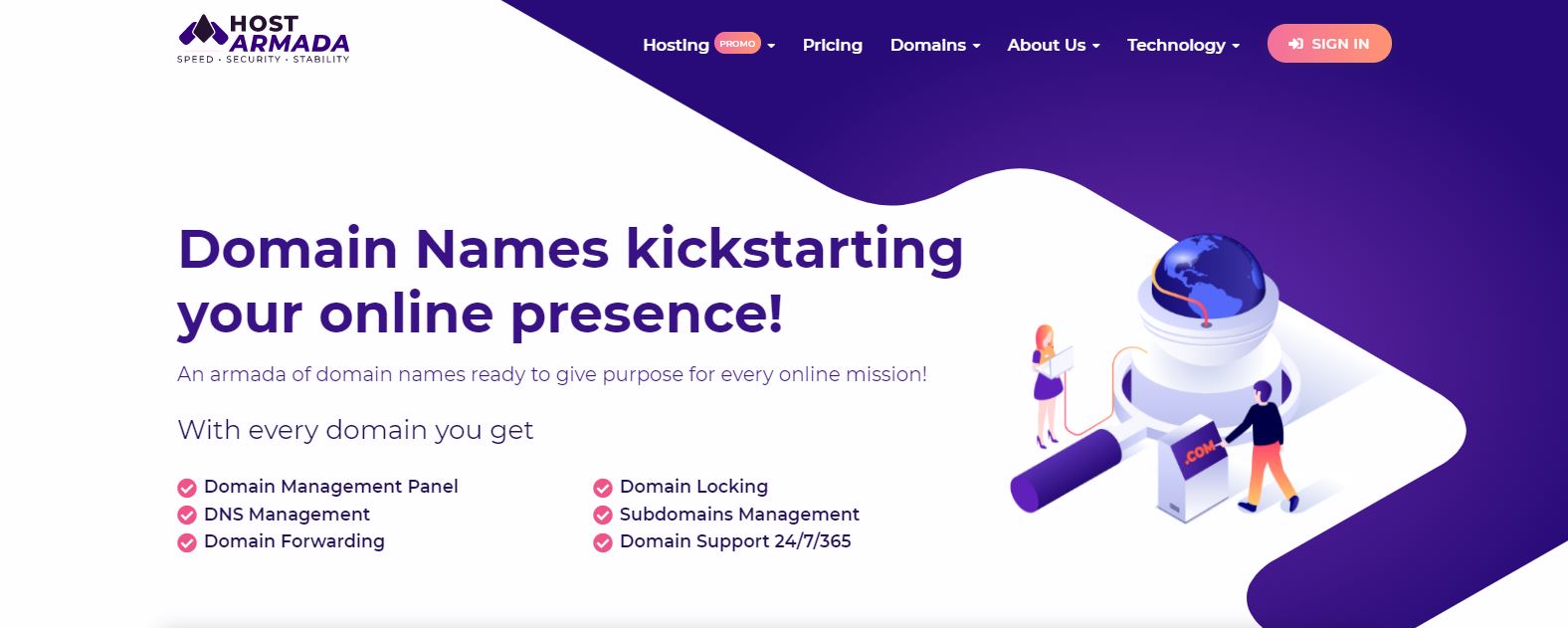 Besides offering a plethora of Hosting services, HostArmada also has a dedicated Domain registration offer as well. You can choose from a wide selection of domain names.
Their Domain registration offer also includes automatic renewal with flat pricing and domain notifications. With those notifications, you don't have to be afraid of skipping a renewal, which can lead to some serious problems for website owners.
You will also get a simple and intuitive domain and DNS management, domain forwarding, and subdomain management. There are also additional security features to ensure your domain stays protected. Basically, there is all you need to manage your domain efficiently.
Conclusion
HostArmada is just what their name hints at, a Hosting providing service with many different plans and solutions. Their bundles or solutions are tailored to satisfy a specific customer base, ensuring personalized solutions and the best optimization.
Whether you need to host a personal site, an eCommerce store, or something else entirely, HostArdmada is bound to have a solution for you. With their wide array of features and price points, something will interest even the most challenging customer.