How to Create Stunning Comparison Tables and Product Boxes That Convert [How to Use Affiliatable]
One of the most important aspects of online shopping is product comparison. Whether the customers are looking for a specific product or simply browsing the store, they will want to see products with similar characteristics compared before finally making the decision to purchase.
Creating and adding a comparison table and a product box to your website can be messy, especially without the help of a convenient assistant. Despite the fact that available plugins for this exist, some lack customization possibilities, suffer from performance problems or are quite pricy.
That is why we are going to introduce you to Affiliatable – the very best all-in-one affiliate toolkit to create compelling comparison tables and product boxes.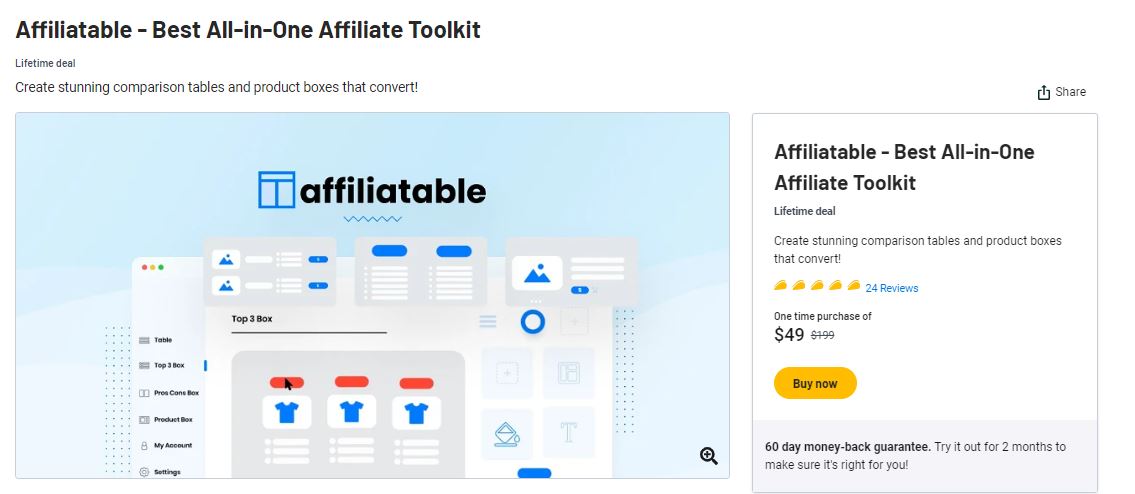 What Is Affiliatable & How Does It Work?
Affiliatable is an advantageous tool that helps you create a number of affiliate marketing elements, including comparison tables, product boxes, and other additions to your blog or online store. It is a tool that also spares you from installing multiple plugins, therefore saving you time and money.
Affiliatable is a completely customizable, user-friendly, cloud-based web app that easily integrates with other plugins and all WordPress themes. All in all, it is a perfect solution for any kind of affiliate platform since it makes it possible for the visitors to see and quickly understand all the data that can help them make informed buying decisions. Affiliatable also helps bloggers and content creators increase their conversion rate and boost their site's SEO.
The tool provides multiple layouts with numerous customization options you can use to compliment your brand's visual identity. It requires no fiddling with the code whatsoever because all the customization is done from a single interface – your Dashboard.
Simply add the product title, description, specifications, price and images, and your comparison table can be added to the website in no more than a few minutes. Apart from comparison tables, with Affiliatable, you can create the top three boxes where you can include the products you want to emphasize, as well as pros and cons boxes that will help your customers decide which product suits their needs best.
Moreover, Affiliatable allows you to monitor the performance of your tables and boxes in real-time, as well as convert leads wherever they are in the world. Essentially, this means your customers will be directed to the right store based on their location.
Affiliatable works seamlessly across multiple platforms, being not just Gutenberg compatible but also suitable for any page platform builders, such as Elementor, Oxygen, and Beaver. It also integrates with custom-built sites such as Shopify and Webflow, carefully optimized to never slow down your page.
Trusted by more than 5000 affiliate marketers around the world,
Price
Affiliatable is available as a one-time purchase, which means you will never again have to pay for any additional features and updates. The deal is covered under the 60-day money-back guarantee, meaning that you have two whole months to decide whether Affiliatable is the tool that suits your needs.
Importing Data for Comparison Tables
If you are already using or planning to use CSV files to organize and import product data, the right importing tool can make this process much more efficient.
Fuse by Flatirons: One of the leading tools on the market for importing CSV files is CSV importer Fuse by Flatirons. This tool allows for easy importing, mapping, and transforming of data, making the creation of complex comparison tables and product boxes a breeze. Whether you're dealing with large volumes of data or just want to organize product information efficiently, Fuse by Flatirons could be the right solution for you.
Conclusion
Whether you are a blogger, content creator, or marketer, communication with your audience is one of the topmost priorities for a successful business. Oftentimes, customers will manually compare multiple products, which will only cost them time and nerves, leaving them unsatisfied with the features of your online store.
Luckily, with Affiliatable, creating comparison tables, top three boxes, and product boxes, as well as pros and cons boxes, has never been easier, as the tool requires no coding or web design knowledge whatsoever.
Simply enter all the product info within your Dashboard and make your website look more professional with these outstanding features.