6 Reasons To Include a Google Map on Your Site: Boost Chances of Bringing More Website Traffic
Let's start with asking ourselves a thorough question "Why would I embed a Google Map to my website." I'm sure that most people who even use maps on their websites don't clearly understand their importance and impacts on their businesses.
Having a map on your website shows the visitors your business location, physical address, reviews, customer feedback, directions, and much more handy information.
Google Maps can be a great addition to your website if it's adequately embedded. After all, it is a tool that allows visitors to your website to get an overview of your business in a matter of seconds.
Google Maps also offers numerous marketing advantages for businesses. As we know, many people are nowadays relying on Google Maps, and maps have become a compelling marketing tool for businesses. As a result, visitors can find anything and everything from nearby restaurants, car repair shops, or anything else your could desire for.
Let's see what the pros are of having a Google Map on your website.
Advantages of Google Maps:
Helps people find your business easily
Provides a quick way for people to contact you
Encourages people to visit you
Displays your business with images
Drive more traffic to your website
Offers customer credibility through reviews
1. Google Maps Help People Find Your Business
If you need to make it easier for people to find your business, then having a Google Map embedded is a must. Google Maps pin and list businesses to the user related to what they searched for. Therefore, users can easily view their options before deciding to visit or contact you.
This is extremely important for your business because studies show that nearly 1/3 of all searches made on mobile are related to location, which means that Google Maps is a critical driver of mobile traffic.
2. People Can Quickly Contact You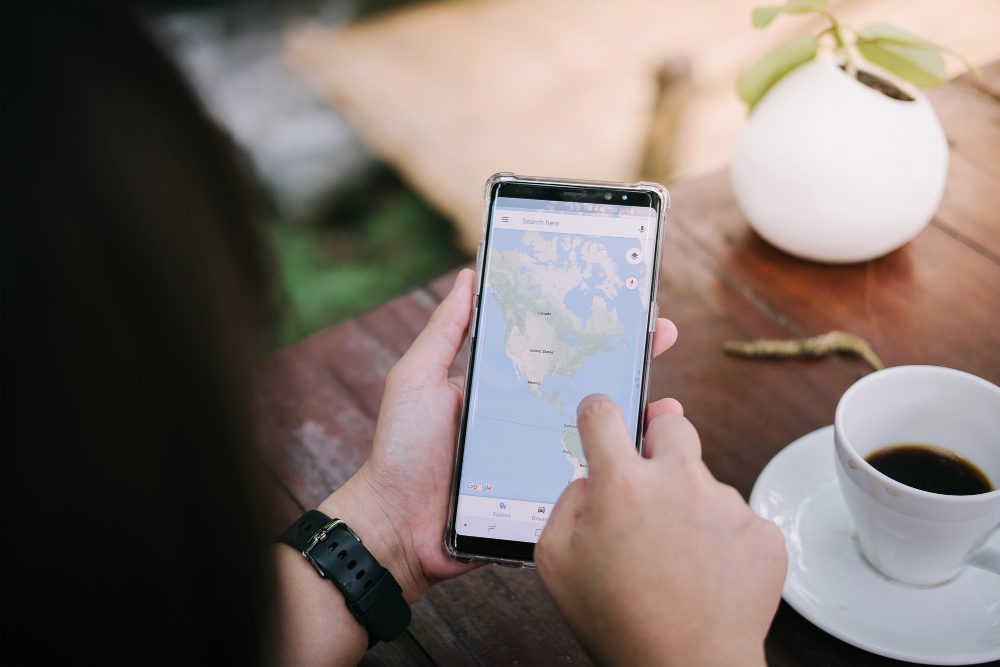 When users visit the contact page, Google Maps will provide them with a comprehensive index of your business, including your company's phone number, and they can easily call you with one click.
Additionally, Google maps allow users to ask you questions and then decide to visit you or not. Therefore, it makes it easy for users to take the next step and directly connect with potential customers.
3. Encourage People to Visit Your Location or Website
Besides providing a business phone number, Google Maps also highlights other contact information about you. For example, for shops or restaurants you're running, users can quickly explore your profile and find directions, all from one location. Thus, there is no need to toggle between apps or web pages.
In case you run a business that sells services or products and requires more research, Google Maps links directly to your website. So, users can research and easily learn more about your company.
Generally, Google Maps drives both in-person and website traffic. However, of course, it means your website needs to be designed and adjusted for mobile screens to convert Google Maps business traffic.
4. Google Maps Showcase Your Business with Images
In general, people are fascinated with images, and when users explore or evaluate a business, the imagery can be the deciding factor. For instance, you are confused about deciding which restaurant to order food from with friends. After looking at the reviews and menu (from the Google Maps business listing), you can turn to the photos of the food.
Restaurants with more and better images will most likely win your decision. In addition, photos and images bring a visual representation of your business that otherwise would be lost.
Ideally, your business should share images to your listing (through the Google Business Profile), but the photos your customers post through reviews are even more impactful.
5. Get More Traffic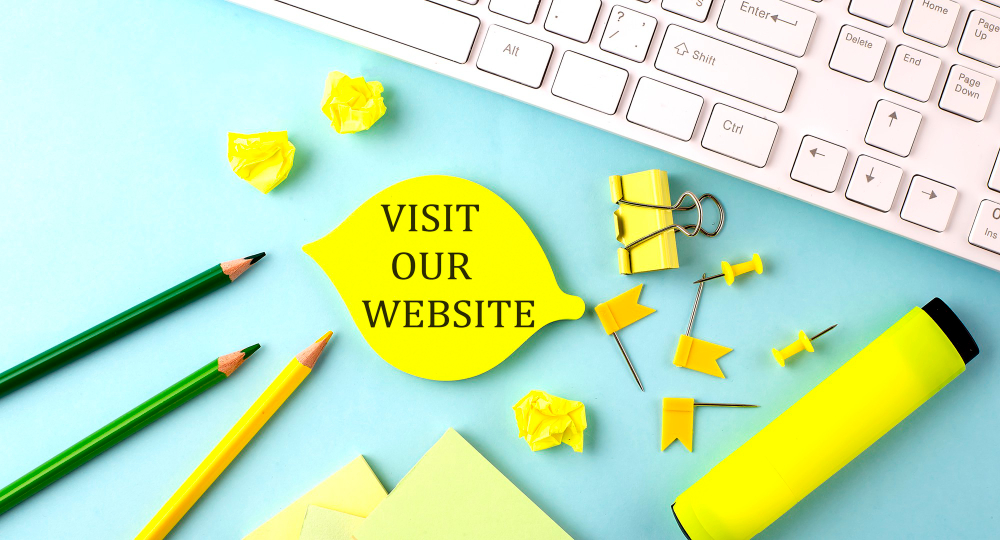 Undoubtedly, Google Maps is the ultimate source for your business to boost traffic on your website. The traffic coming from Google consists mainly of people who want to buy and people who aim to gather information.
However, on the other hand, if the traffic is coming from Google Maps, it means that person has first searched for some services, then found your listing, and then visited your website. In other words, they are searching with the primary intent of making a purchase.
The high traffic you generate and drive to your website can help you boost your business revenue and overall visits to your website. Therefore, when you generate higher traffic from Google Maps, the overall authority of your website improves, which helps you rank for competitive keywords.
6. Google Maps Offers Customer Credibility Through Reviews
There is nothing that can build brand trust more than social confirmation from other people. Also, the most successful way to do this is through online reviews, which Google Maps displays in the profile listing.
Google Maps' business credibility includes:
Star ratings
Written reviews
Submitted images
Encouraging consumers to leave reviews on Google allows other potential customers to gain trust in your business and prompt conversions.
How To Add Google Maps to Your Website?
However, let's suppose you are tired of searching the WordPress repository for a plugin that will display Google Maps. Additionally, you want a secure, stable plugin that installs quickly and constantly updates.
Well, don't you worry because we are more than happy to tell you that we have a solution for you? We are sure that the Google Maps Widget plugin is the best option for you.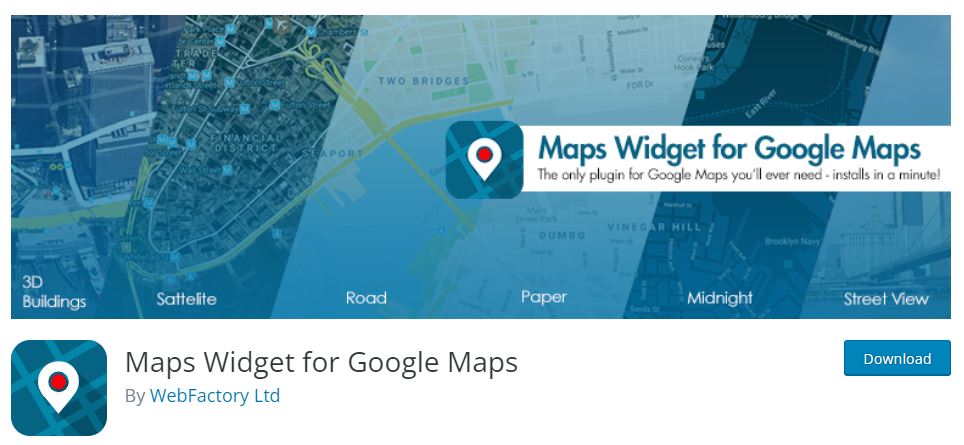 This plugin counts more than 100,000 satisfied users and is compatible with all WordPress themes. The developers of this plugin update it regularly, add new options, and provide excellent support by answering questions on the forum.
Key Features:
Easy to Use
Add Unlimited Maps
As many pins as you need
Street view, directions, and much more
Have Maps Anywhere
Mobile Responsive
Customize the Map
Pricing
With many options and great features, we can say that this plugin is relatively cheap, and most people can afford it. There are three available pricing plans you can choose from:
PRO Personal – $29 / year. This is the cheapest option and includes installation on one site, one year of upgrades, one year of support, and all PRO features. If you use this plan, then you only pay for the plugin while using it.
PRO Personal Lifetime – $39 / lifetime. However, the crucial fact is that this plan includes installation on one personal site, lifetime upgrades, lifetime priority support, and all current and future PRO features. Also, this is the best option and the best value for money.
PRO Unlimited Agency – $79 / lifetime. If you buy this package, you can install the plugin on an unlimited number of clients and personal sites. The package also includes lifetime upgrades, lifetime priority support, and all current and future PRO features.
Conclusion
There you go. Next time you plan on building a website for your business, make sure to include a Google Map and increase the chances of driving more traffic and getting more potential customers.
It's totally free, and you can easily integrate it into your website. You can do it manually by yourself, which includes some programming knowledge. However, if you need a WordPress plugin for adding Google Maps, check out the Google Maps Widget plugin.