Skip The WooCommerce Cart
The WooCommerce checkout process can often feel long – especially when compared Amazon, to the gold standard of eCommerce, and their patented 1-click purchase.
Extra steps can often lead to lost customers. 26% of cart abandonments are caused by checkout processes that are too long or complicated. That's a lot of potential customers that could be leaking out of your conversion funnel.
A typical workflow looks like this:
Add to Cart – the user selects the quantity and/or options and hits the Add to Cart button
They can continue shopping but let's assume they press the View Cart button
They see the cart and click the Checkout button
They arrive at the Checkout page

These are a lot of steps if the customer just wants to buy the product. If you have simple products or your customers only typically buy one product there is a simple process to get around this.
Our simple free plugin allows you to create a whole new workflow. You can find it on WordPress.org right here: http://bit.ly/JEM-direct-checkout
The plugin allows you skip steps 2 & 3 and go directly to the checkout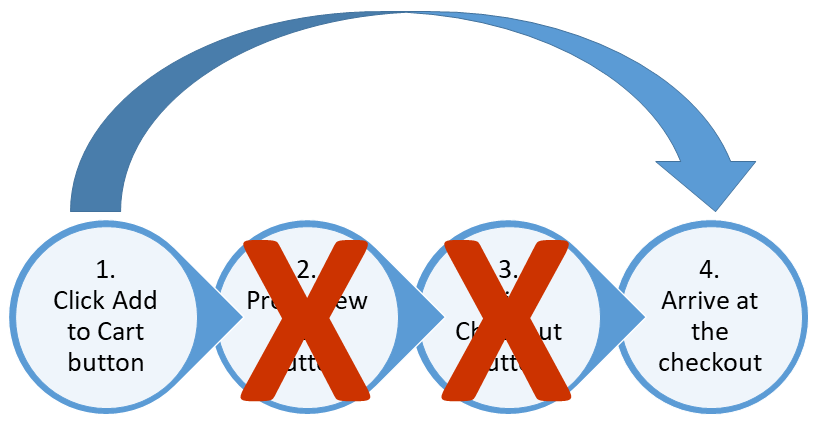 The setup is extremely easy. Once you have downloaded the plugin (remember you can find it here: http://bit.ly/JEM-direct-checkout) you will see a new item in you WooCommerce menu.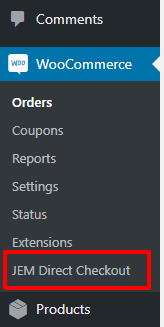 When you click on JEM Direct Checkout you'll see a simple settings page: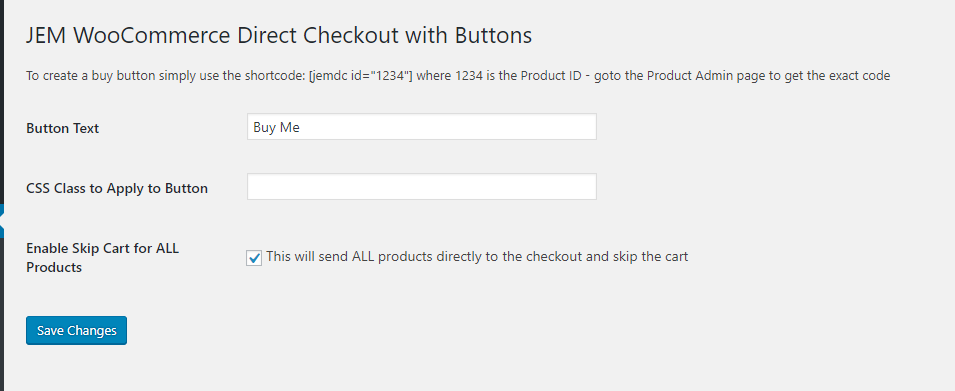 The setup is super easy.
The first two fields are related to the ability to create custom buy buttons for products. You can find more information on that here:
For our example all you need to do is simply check the "Enable Skip Cart for ALL Products". This will effectively turn-on the plugin functionality.
Once you have done that when your visitors hit the Add to Cart button they will immediately be taken to the checkout page – it's as simple as that.
If you'd like to see a video of the setup and plugin in action checkout the video below. In the video we'll show you exactly how to use this plugin and the effect it will have on your site
Feel free to leave a comment below with any questions
I hope you enjoy this plugin and it helps raise conversions on your store.