Improve Conversion Rates in Your WooCommerce Store
Would you like to improve the conversion rates in your WooCommerce store?
For most owners, no matter how successful, that's a resounding "yes." Step one is to be sure your site loads super fast by using the best web hosting provider. Shopping cart abandonment is a common issue with many potential factors.
Ecommerce shipping options is one factor. According to research from Baymard, "extra costs too high" including those associated with shipping are the biggest reason for cart abandonment. Other reasons that could be associated with shipping include things like not being able to calculate the total order cost upfront and not having options when it comes to shipping.
In other words, your shipping can play a major role in whether someone decides to go through with their purchase or not. If you still think: "can someone write my thesis for me on eCommerce shipping" you may also contact experienced writers who will provide more captivating information on this topic.
As a store owner, here are a few things to consider:
[content_upgrade cu_id="6292″]Download out 10 tips for saving on shipping here[content_upgrade_button]Click Here[/content_upgrade_button][/content_upgrade]
What ecommerce customers expect
If you feel like customer expectations have risen, you are probably right. Compared to the early days of ecommerce, customers are now very spoiled for choice – if your offer doesn't meet their expectations, they'll easily go to a competitor. While there are plenty of reliable ecommerce developers that can help you optimize your store as much as possible, lowering the shipping cost is something that will definitely improve your conversion rates without much store optimization.
Amazon has played a big role in shaping customer expectation. Their free two-day shipping for Prime members has raised the bar in terms of speed and cost of shipping. The 2018 ecommerce study from Dotcom Distribution indicates that 91% of respondents are likely to buy from a brand that offers free shipping.
Customer perception of what a "normal" shipping time should be has also been influenced by Amazon. Data in the study showed that there was a 19% increase in people using same-day delivery (even with additional charges). At the same time, there was an increase in people who expected shorter delivery times without being charged for the convenience.
On top of this, 90% of shoppers found free returns either important or very important. When you're considering shipping costs and pricing options, this is another aspect to take into account.
When it comes to shipping costs, 93% stated that they are greatly influenced by them. While 65% of those surveyed expected two to four-day shipping, only 25% were willing to pay extra for the faster shipping. If you think that using slower shipping times might help you to fund free shipping, consider that 77% stated their decision to make a future purchase from an ecommerce store would be impacted by delays in delivery.
So basically, customers expect fast, but not on their own dime and may not be very forgiving when it comes to any delay. Overall, it's important to be clear from the beginning about your shipping terms and reduce any "surprise" factor going into the cart.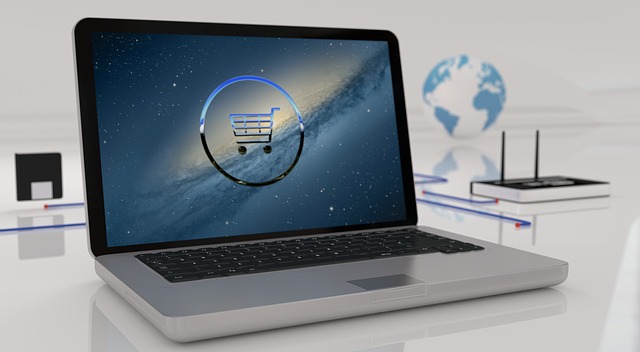 [bctt tweet="Ecommerce shoppers increasingly expect "fast and free" from their shipping" username=""]
Shipping costs
Most smaller ecommerce merchants balk at the idea of offering free shipping. Even for larger companies, shipping represents a significant portion of their expense column. For many, it can make a huge difference to profitability. However, the "Amazon effect" is very real, so it's important to look through a wider lens and find acceptable ways to meet shoppers' "fast and free" expectations.
First, Amazon can offer free shipping because they operate on a massive scale. This gives them some leeway to negotiate pricing with carriers. You may not have the clout of Amazon, but if you're regularly shipping a significant number of parcels, you should definitely not be paying standard retail rates. Look for shipping deals for businesses – there are companies set up to help you do this. If you need to set up complex shipping rules (such as by weight, or by the number of items in the cart), a WooCommerce plugin such as WooCommerce Table Rate Shipping Pro is very helpful.
Second, remember that "free shipping" is often a bit of a psychological game. Free sounds a lot better than paying for something! You may be able to find a way to integrate all costs into the ticket price of your products. This can help to alleviate customer worries about not being able to calculate costs upfront too.
Third, you can devise strategies to be able to offer free shipping under certain circumstances. Here are some examples of how you might use it while reducing your own costs:
Offer free shipping as an option, but on a longer delivery period which costs you as a business less. For example, Shoes.com advertises "free shipping, no minimum order." If you dig into their shipping policy further, you find that free shipping might take several days to arrive (well over a week in some cases). They do provide options to pay more for faster shipping as well.
This is not to suggest that their strategy will work for all ecommerce businesses. It's important to know your own audience and test out what works for you. For example, Shoes.com often has deeply discounted products – there's a chance shoppers might be willing to wait a bit longer in return for a good discount.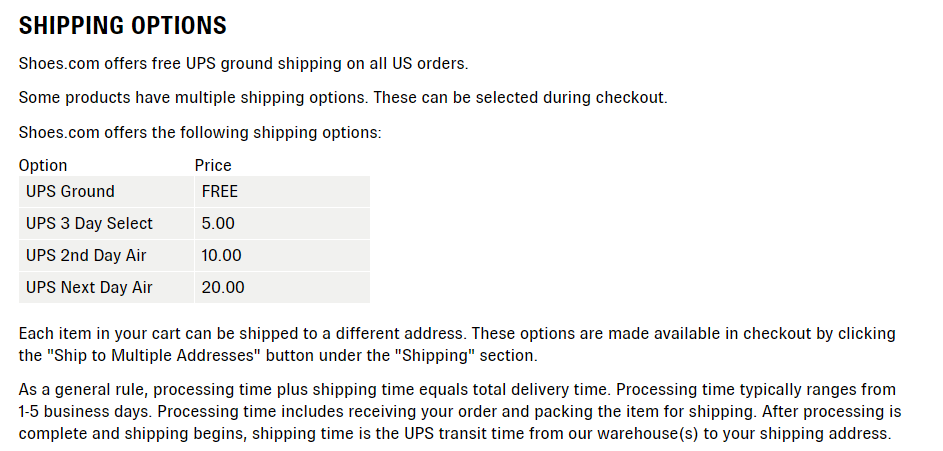 Offer free shipping for all orders above a certain value. For example, ebags.com offers free shipping on all orders of more than $49. You will need to calculate a value that allows you to achieve the profit that you need from sales.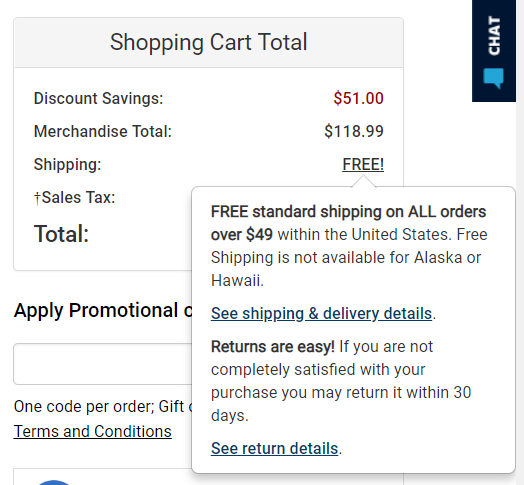 Offer free shipping as a promotion to entice new shoppers. The idea is that you want to give that new shopper an excellent experience over and above the free shipping offer, so that they feel inclined to return. You will see a number of ecommerce merchants state "free shipping on your first order."
If you can't offer free shipping, another consideration could be to offer some kind of incentive that Amazon does not. For example, you might have a customer loyalty scheme, or work with investment apps (like Acorns) to offer some percentage of cashback on sales.
Choice of delivery speed and carrier
Many customers have a preference for a carrier who they feel is more reliable. This can change from area to area, depending on how the practices of the carriers vary. For example, a carrier in one location might leave a package where it can be affected by weather, while the same one in another location might take care to knock on the door and leave the package under shelter if no one is there.
Many ecommerce merchants are recognizing that customers might have a carrier preference and are offering them options. It might not be feasible to offer several different carriers, but a choice between two major ones can make a difference.
Further (and relating to our last section), giving options when it comes to delivery speed can make a difference too. It's about recognizing that customers have different priorities and would like choices that reflect those. If my preference is "lowest cost possible," I'm probably happy to wait out a slightly longer delivery period in return for free shipping. If we're five days out from grandma's birthday and I need my gift for her in a hurry, I'm happy to pay for priority shipping.
The unboxing experience
This last point about shipping and conversion rates has more to do with encouraging repeat business from your customers. The Dotcom Distributors survey revealed that "what's inside the box counts."
Data showed that, while the unboxing experience (in terms of presentation, use of fancy packaging, and overall aesthetic) was less important than previous years, a preference that has trended upwards is deriving extra value from what's inside. Consumers love giveaways – this isn't really surprising! Things like magnets, coupons, or other "extras" were valued above making extra effort over package presentation. Millenials and Gen Z were especially likely to make a repeat purchase based on a free giveaway or recommend the brand to others.
That's not to say that presentation doesn't matter – it still definitely does! Ecommerce merchants should consider their packaging practices as an important part of their shipping strategy and a statement for their brand. Products that turn up appropriately packaged to eliminate shipping damage and neatly presented will leave a good impression.
[content_upgrade cu_id="6292″]Get our 10 tips for saving on shipping here[content_upgrade_button]Click Here[/content_upgrade_button][/content_upgrade]
Final thoughts
Your ecommerce shipping rules and overall setup can play a big role in your conversion rates. The "Amazon effect" is alive and well, with shoppers having higher expectations of fast and free shipping.
This doesn't mean you have to directly mimic Amazon – most ecommerce merchants are in no position to do so. Consider your own target market, their priorities, and the messaging that will appeal to them. Of course, it is worth mentioning that if you want to improve your Amazon BSR, you can use AmzChart (Professional Amazon BSR Analysis Tool).
It can have as much to do with the psychology of the idea of free shipping as anything else. If you can find a way to offer free shipping while still achieving the margins you need, you just might have a winning strategy.