How to Export only New Orders in WooCommerce
On occasion you only want to export the latest orders from WooCommerce – maybe you want to process them or send them to your dropshipper. Our plugin makes it incredibly easy to do this. In this article we'll go over exactly how to to do that so you can save yourself time, energy and effort! 
There are many reasons to only get new orders exported but regardless of why you want to do it, our plugin makes it ridiculously easy to to achieve just that
On the main export screen – or if you are using our PRO plugin yo can also do this when setting up a scheduled export that is automatically run for you – you will see a section title "Export New Orders Only" – see the image below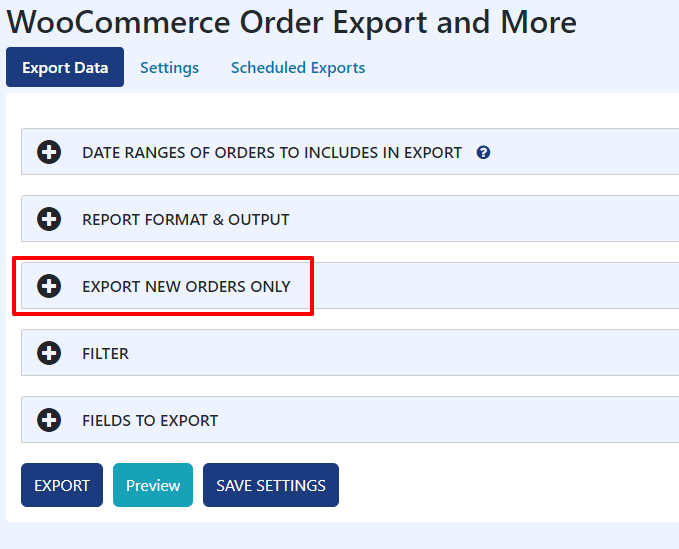 Clicking on the PLUS (+) sign will expand this section and you will be presented with a section that controls exporting new orders only. It is a relatively small and simple section – but it is incredibly  powerful!!

The two fields in this section are:
Checkbox – Only export new orders
Starting after order #
The checkbox is very straightforward it simply determines if this feature is turned on or off. If you want to only export new orders then make sure this checkbox is SELECTED
The second field controls where the export will start from. It will start selecting orders AFTER the value in this field. So for example if you enter 6549 in this field, the export will start with the first order AFTER 6459. If you leave this field blank the plugin will start fromt he very first order.
Automatically Updating the Order Number
The plugin will take care of updating the Staring After # field. So when you run an export, if this checkbox is selected, the plugin will automatically save the last record. For example if the last record exported in an export is 10542 then this order number will automatically be saved in the field; so when the next time it runs it will only pick up orders AFTER 10542.
IMPORTANT: Do not change this field unless you want to change which orders are exported
As you can see it is super easy to setup our WooCommerce Order Export plugin to export only the latest orders. This can help you run your store more efficiently and save time.